After Christmas this year, we went for a quick visit to San Francisco to get away for a few days.    Our day started on Tuesday night when we got to our hotel, the Kabuki, in Japantown.   We chose this hotel to try something different and to be closer to some of the activities we planned on doing the following few days.   A review of the hotel will be posted in a separate post.
Since we were staying in Japantown, our first stop was to a non-traditional Japanese restaurant, Bennihana's.   As you might expect, the food there was the same as to any other Bennihana's in almost just about every city.  We had a drink at the bar then headed to our table where we met a couple that was staying at the same hotel and planning on going to Alcatraz the next day.
The next day we awaited our tour bus from Extranomical Tours to take us to Meir Woods and Sonoma for some wine tasting tours.   The bus ended up being 30 minutes late and had we known that we would have slept in a little bit.   I was surprised that the tour bus was quite full and there weren't too many empty seats.   Next time, we might take a private limo tour for a bit more flexibility in the tour.
Our first stop was the Meir woods where we got to explore the amazing redwood forest.  Those trees were gigantic and the ambient temperature was quite cool as the trees provide ample shade and are nestled in a valley.  We spent about an hour at the woods and purchased a few souvenirs to take back home.
Our second stop was the Jacuzzi wine vineyards where we sampled some decent wines but not enough to buy any.  Actually, we didn't buy any wine because we didn't want to check luggage and the TSA no longer allows liquids on board a plane.  The facilities were quite nice but it was clearly far too touristy as the whole environment seemed to be geared toward selling items but we had a good time nonetheless.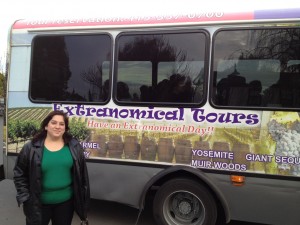 After visiting Jacuzzi, we headed over to Sonoma to have lunch and tour the town.
We did a some shopping there and tasted some more wines.  Unfortunately not too many were to my liking.
After spending a few hours in Sonoma we headed back toward San Francisco and stopped at Cline winery where we did find two good wines, "House Reds" was one of my favorite wines and will be ordering online from them sometime soon.
After the Cline visit, we headed back to San Francisco and made a stop at the Golden Gate Bridge to take some photos but unfortunately the fogged rolled in and obscured any view of the bridge except for the pointy tips of the bridge.
We got dropped off back at our hotel and had dinner at the hotel's restaurant Izakaya Lounge where the food was mediocre and the service was equally the same.   There was only one waiter for a full restaurant and the bartender was new and didn't know much.   We did get comped a free glass of wines after all the screw ups with our order but we were quite tired to complain too much however we won't be eating there again.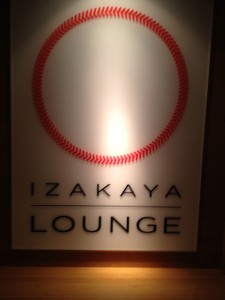 On Thursday we decided to explore San Francisco so we walked a few blocks to Van Ness Ave & California where we boarded the San Francisco cable car.  We took that all the way down to the financial district and visited the area but ultimately took a ferry to Sausalito where we did quite a bit of shopping for clothing and other items.
After spending the better part of the morning and afternoon at Sausalito, we took a different ferry back and ended up at Pier 39.  The area was full of very specific shops such as a market for KeyChains, Socks, and Lefty's!  We did get to see the famous seals that lazily lay on the pier all day long as well.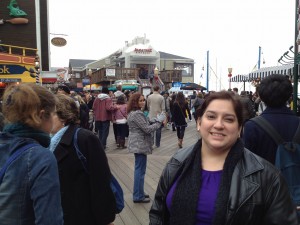 After Pier 39, we took a cab over to Chinatown where we walked through the area looking for some good bargains or interesting items but didn't find too much that we could easily carry back home with us that day.    We ended up back on California Street where we once again too the cable car back toward our hotel and walked the rest of the way.
For dinner on Thursday night, we took a walk over to Woodhouse Fish Co. which is a quaint little restaurant with great food and great service!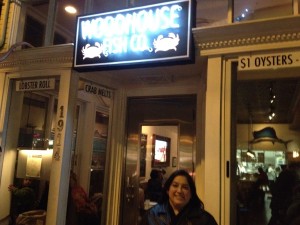 On Friday, we headed back home seated in first class…this last one bit is for the kids 😉