We checked out of the hotel this morning and headed to Baltimore.   I'll write a review of the hotels from our trip once we return home but this one has a lion that bites!
We wanted to be near our airport (BWI) and we had a few hours to kill so we hung out at Baltimore's Inner Harbor.  Similar to Navy Pier in Chicago although not anywhere near as entertaining.   The harbor does have restaurants, shopping and a few water rides; the kids couldn't pass up the water dragons.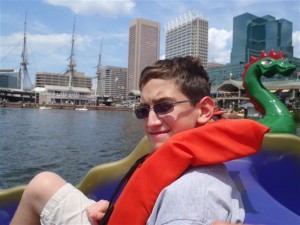 And check out the guns on this battleship.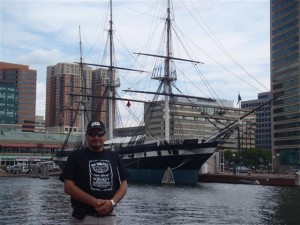 Boom! Boom!  Fire Power!
For lunch we went over to Nick's Seafood located in the Cross Street Market where the kids downed some Snow King crab and Marge and I had some King crab and fried soft crab!
We're at the airport on our way home…. All photos will be added to the photo gallery this weekend when we get faster internet!