Essentially our last day in New York as we head over to Washington D.C. tomorrow morning.   Given my back problems we started the day with me going over to a massage spa to relieve the pressure on my back muscles.   The massage worked pretty well as I am mobile again and not walking crooked.
Meanwhile, the kids took a walk about around time square to take it all in before we leave.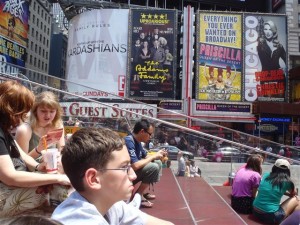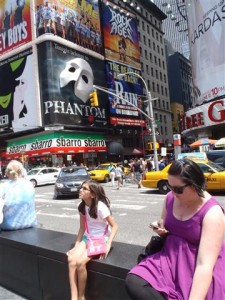 Of course, the kids did horse around while waiting for the broadway show, The Lion King today….
After all the horse play, we headed to the Minksoff theatre to watch The Lion King.    Because of my back injury, I didn't know if I would be going but because I felt better I went to the standby booth to try to get a ticket for the sold out show.   Fortunately I found a seat but it wasn't in the box seats with the rest of the family so I really lucked out!
I thought the show would be for the little kiddies but it ended up being a pretty good show and one of the few shows on Broadway that is appropriate for young kids, most are adult oriented and not family friendly which is why I think it sells out fairly frequently.
We've had a great time in New York taking in a couple of Broadway shows, shopping, fun and relaxation but the kids thought the city was a bit too busy and you can see what they mean with the photo below.
We'll need to come back some day to catch up on some more Broadway Shows.  I wanted to see the Book of Mormon but that was sold out for the entire time we were here as well.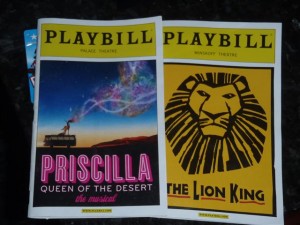 We will be back!