We started late in the morning and headed to our usual gray line red bus to go uptown and check out the museum district and central park.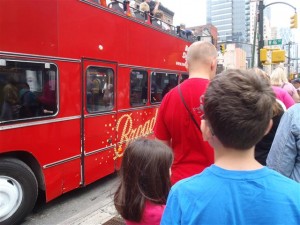 Notably absent from the bus ride was Marge who was back at the hotel room feeling a bit sick.    She eventually caught up with us but we headed out to our first stop the American Museum of Natural History.
This museum was the one that was used as a basis for the movie "A Night at the Museum" and yes we did get to go see the "dum dum" statue as it's now known at the museum.   We were disappointed to find out that they don't actually have a Roman diorama or cowboys and indians fighting at night 🙁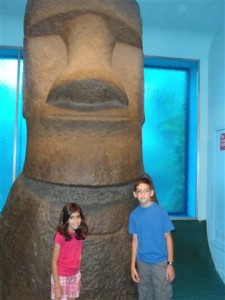 After meeting up with Marge at the museum, we decided to split the team.  Marge & Lisa headed out to Central Park while Bart and I headed over to see Grant's Tomb.  Trivia:  Who is buried in Grant's Tomb?    Trivia:  Which Tomb is the largest in North America?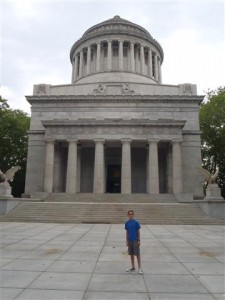 After leaving Grant's Tomb and the nearby Riverside Church, we hooked up again with Marge and Lisa at Central Park.
After having an overpriced lunch and horrible food in Central Park, we headed over to the Metropolitan Museum where we got caught in a rain storm and totally soaked.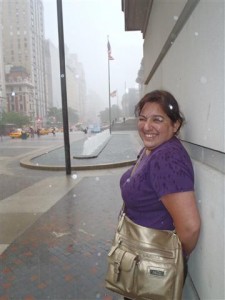 We all got thoroughly soaked so the kids and Marge opted to head back to the hotel to change into some dry clothes while I toughed it out and saw the magnificent works of art and captured quite a few good ones for the background on my ipad.
Oddly enough, the sculpture above was like staring in a mirror….
After a quick visit to the Met's gift shop and picking up a few mementos, I headed back to the hotel where Marge had already purchased some tickets for a broadway show.    Much to my surprise it was Priscilla but an entertaining show nonetheless.
It was a pretty long day so it's time to go to bed!