We arrived last night and the limo driver was at the wrong terminal.   He was at Terminal A while we were waiting on Terminal C.  After waiting a few minutes he finally showed up and we were off to downtown Manhattan!  The kids had a good time in the limo.
Upon arriving our hotel and checking in, we dropped our bags off and took a quick walk about at Times Square.
On our first full day in New York, we boarded the Gray Line bus and headed to the Statue of Liberty!  While we were there we got a bird's eye view of many of New York's landmarks, many of which we plan on visiting later!
After arriving at Battery Park, we bought our tickets and were warned that it would take up to 90 minutes to get to Liberty Island but we managed to get there in about 40 minutes despite the long lines!
We spent quite a bit of time on the island checking out the Statue of Liberty!
After leaving Liberty Island, we headed over to the World Trade Center on this historic 10 year anniversary of 9/11.
We also checked out the new Freedom Tower which will be 1776 ft high.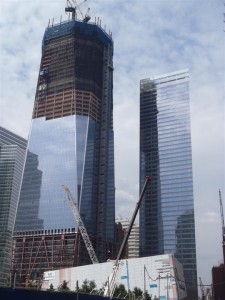 It wouldn't be America if we didn't do some shopping after visiting the memorial; remember if you stop shopping the terrorist win so we stopped at  Century 21 to load up on some bargains.     Homer picked up 10 shirts at low, low prices…
After resting a bit, we headed out to dinner at a nearby restaurant (Olive Garden) and used some gift cards from Christmas that we hadn't happen to lose.   We then headed back to the hotel to get some rest….we'll have a full day tomorrow.