Given the fact that we had a huge lake almost entirely to ourselves, we opted to rent a boat from the marina to take advantage of the possibilities.   The smallest boat they had available was a 25′ boat for $320 per day plus fuel expenses.     We headed to the docks and took off in our pontoon like boat out to the heart of Greeson lake.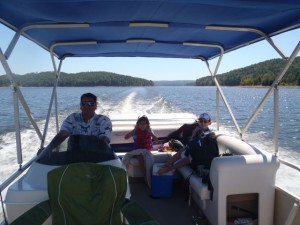 The kids couldn't wait to dive into the lake for a cool swim and seem to be enthralled with the idea of swimming to the variety of islands peppering this archipelago lake.  The kids modus operandi was fairly standard:  Dad parks boat about 20 to 30 feet from shore while kids jump out and swim to the island to explore.
Kids swim to shore
Kids explore island
Kids swim back to boat
Kids swim back out to other island.
The swimming back and forth quickly wore the kids out so we then switched to fishing.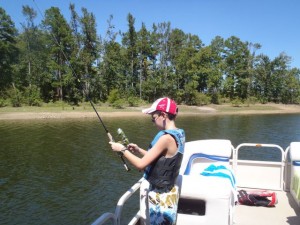 Bart tries to catch some catfish….meow…or bass….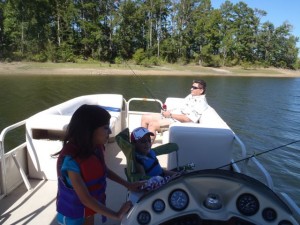 While we try to catch some fish, we decide to sit back relax and enjoy the view.    With miles and miles of lake everywhere the eye can see and hardly any other boats in the water, it becomes possible to turn the helm over to younger captains….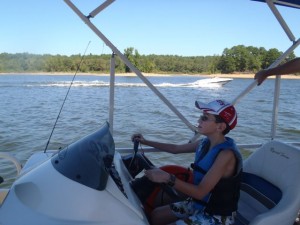 While we all sit back, relax and enjoy the scenic tour!
Around lunch time, we anchored the boat near our cottage and swam to shore to head up to our cottage to get something to eat.    After eating lunch, we headed back out to the lake and swam back aboard our boat to catch a few more hours of swimming & fishing before we ended the day back at the marina.
We headed back to our cottage for dinner and played a game of Life as we rested our weary legs and sun tanned bodies in the cool indoors!
We were totally wiped out by 8:30 p.m. in the evening and decided to start packing for our trip home the following day.   We've had a great experience here in Lake Greeson and we'll likely return sometime in the near future.