We've just concluded our Spring Break 2012 trip which took us to various parts of New Mexico.  We had a great time and the summary is listed below.
DAY 1
We landed in Albuquerque mid-day on Monday and headed straight to Sadie's Restaurant which was featured in the Man vs. Food television show.   We didn't know what the big deal was until we ordered some "lunch" sized plates and had a mountain of food delivered at our table.
No one that ordered any food could actually finish a plate and when we got the tab it wasn't too bad but unfortunately we couldn't take the food with us since we had no storage so about half of it went to waste….
After lunch we headed to a nearby winery called Casa Rodena which was established way back in 1995.  We tried a few wines here and ended up buying one for the trip back home – a very smooth port wine which we'll enjoy with the family later.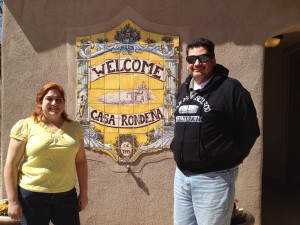 From the winery we headed over to Skip Maisel's place in downtown Albuquerque.    This is an absolute must go place if you want to do shopping.  We visited many, many sites and by far the best deals on jewelry, nick-knacks, clothing, blankets and such can be found here.  These guys are WHOLESALERS so you won't be paying retail.  If you go up to Santa Fe (which we did), you'll find prices 30% to 50% higher for the EXACT same items!    We purchased a whole lot of stuff here and don't regret it one bit!
From Skip Maisel's it was a short drive to our next stop over to old towne Albuquerque where we found some more shopping items and some very historic buildings in the area.
After our tour of old towne we decided to drive up to our hotel for check in.  The hotel is located about 20 miles north of Albuquerque in a secluded area.    We opted to stay at the Hyatt Tamaya Resort which turned out to be a hidden gem in the southwest!    The hotel features three nice pools, heated spa, on-site stables, golf and fine dining so we had a great time relaxing after our day trips.
DAY 2
We started our second day in New Mexico early because we had a surprise for the kids which included a hot air balloon ride that started at 7:00 a.m.  We drove to the location where the balloon lifts off from and the kids got to help with the setup.   We chose to go with World Balloon for our ride as they were highly recommended on TripAdvisor.
It literally goes without saying but the balloon ride was pretty impressive.  We glided over the rio grande inches from the water, we then glided over cotton wood forest trees occasionally scraping the basket below.  We then climbed up to 1000 feet which seemed much higher as the moon became bigger and bigger (note: Albuquerque 5000 ft above sea level).
The hot air balloon ride really is a once-in-a-lifetime experience but I highly recommend it.  We've now scratched this off of our bucket list!
After our hot air balloon ride we ate a quick breakfast at a nearby diner where we didn't get 10% off as the World Balloon flight operator suggested 😉
From breakfast we headed over to see the native American petroglyph parks.  Unfortunately, we didn't have any water with us and since it's the desert and safety comes first, we only took a brief tour of the main park before we headed off to the other (water available) parks. We did manage to catch a few photos.
Upon finishing our petroglyph excursion, we headed back to the hotel to do some horseback riding.   The clan saddled up and went for a 90 minute ride-about in the New Mexico desert along the Rio Grande!
Needless to say, it was beautiful country, the weather was sunny but cool and the views were majestic.   The kids handled the horses well and aside from a sore ass we fared very well on the horses.    The four horses we had were Dude (dad), Buckey (bart), Chief (mom), and Stuball (lisa)
After a long day of hot air balloon, petroglyphs and horses, we headed back to the hotel suite for pizza and pool.   The heated jacuzzi was exquisite.
DAY 3
We opted to eat at the hotel for breakfast (since it was included with the stay) because we slept in after having awoken early the previous few days for activities but we ate quite a mouthful after a heavy week of fun.
After breakfast, our mission was to take the kids snowboarding at Sandia Peak.   We managed to make it before the ski resort shutdown for the season.   Friday would have been the last day so we got lucky snow had fallen the weekend before we arrived.
After the ski affair, we headed back to the hotel to rest for a bit.    In the evening we headed out to KIMO Theatre to see a rendition of a play called "La Llorona" which means the "wailing woman" and had a good time in the strange type of performance which involved a great deal of audience interaction.
We ended the night with a drive back from downtown Albuquerque to our hotel a little disappointed yet intrigued by what we had just seen….
DAY 4
The fourth day of our trip started with a drive to the train station so we could take a train to Santa Fe.   The train ride was fun and the views were spectacular.  Unbeknownst to me, we weren't supposed to be taking photos of the native American lands we were crossing but I didn't see what the big deal was since it was mostly desert terrain and nothing you can't get from google earth anyway.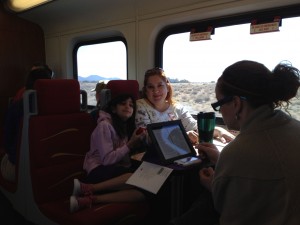 Upon arriving at Santa Fe, our first stop was the state capital.   We seem to always land in the capital city so we opted to take a quick look at the site.   As usual, the building was nice and posh, my..my what we can buy with taxpayer money!
After seeing the newest and likely most expensive building in the city, we headed to the oldest (and likely poorest) building in the city (and oldest church in America) the San Miguel church.
As churches go, there wasn't anything different other than the really old construction with large wooden beams across the top of the ceiling to hold up the old style adobe roof.  Next door was one of the oldest houses in North America, an adobe mud home built in the mid 1600's.
From there we went over to see the Miracle Staircase built by a carpenter for the nuns of the church.   The staircase is called a "miracle" because no nails or glue was used in the construction of the spiral staircase.    The picture shown however has a banister which was added later for safety (and it does include nails).
From the miraculous staircase, we walked over to the Cathedral Basilica of Saint Francis (hey, it's an old Spanish town, whad'ya expect?).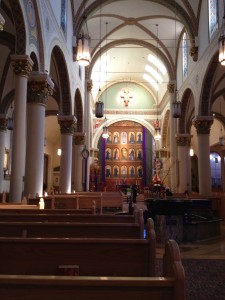 After the church, we passed through the town square plaza which had many shops and street vendors selling a variety of items.  We confirmed that the prices here were 30% to 50% higher than Skip Maisels so if you want to do a lot of shopping and save money, go to Skip's!  From the plaza we headed to the Georgia O'Keefe museum.  Did you know Georgia O'Keefe was from New Mexico?
After being erotically tantalized by O'keefe's flowery imagery we headed back to the train station and took the train back to Bernalillo where we picked up our car and headed to Albuquerque for our last stay.
We had an uneventful dinner at Applebee's then checked in to our hotel near the airport.   We were all very tired and had a very early flight the next day so we didn't do much but repack our purchases and items for the journey home.
The lasting image I will have of our trip was seeing the sun set through the metallic statue at the car rental drop off location.    We had a great time.