During our stay in downtown Chicago, we stayed at theWit hotel and while we loved the location and had a great time, I have a few qualms about this hotel.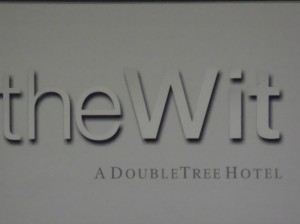 First, in my opinion, I would not characterize this hotel as family friendly.   There is a bar and club at the 27th floor of this hotel and it is prone to constant visitors traveling to and from the bar at all hours of the day.    The 27th floor is off limits to anyone under 21 except during certain times.
This hotel is fairly loud, partly because of the constant stream of visitors and yapping alcoholics, and I couldn't help but notice that every floor has security cameras peering into every hallway of the corridors.   I began to worry that this hotel isn't the safest hotel due largely to the large influx of visitors heading to the club on top.
The hotel is equipped is a bunch of money booby traps including a pressure control minibar that charges you $12 for opening the bar.   My bill has a $12 mini bar charge and we couldn't figure out why it was there other than for just opening the fridge!   Internet access is $9.95 per day which is ridiculous considering the$349 nightly rate!   You can also expect to pay $46/day to park your car here.
Be forewarned, the city of Chicago is hostile toward visitors through incredulous taxation.  Sales tax is 11% on almost everything, hotel fees and surcharges easily add up to over $54 per night and did I mention there is a $46/day valet fee if you bring a car?
The hotel staff was very friendly and helpful and have no complaints about them but if you're traveling with children, there are way better options for you in the city of Chicago.
Lastly, we ate at State Lake and would pass on this restaurant as the food was edible but nothing special to write home about especially if you're interested in the $10 burger and beer special, just go across the street to Johnny Rockets and save yourself $60.