During our stay at Salt Lake City, we spent our entire stay at the Grand America and I have to admit that this has been one of the best hotels we've stayed in during our travels all over the world. I like to compare our stay in three key areas: amenities & proximity to activities, personnel & service, and facility (room).
The Grand America scored high on all three of my key criteria. First, the hotel has very good spa facilities that include a large indoor heated pool, outdoor pool and heated jacuzzi. The spa facilities had excellent private lockers, showers, hot sauna and wet sauna. The best part was that the hotel spa was open late till 10 p.m. and massages could be scheduled as late as 8:00 p.m. This is a huge plus if you've spent the day skiing and want to finish the day with a massage. The hotel was extremely clean and well maintained and the grand entrance with a giant sized vase filled with roses emits a pleasant scent throughout the main lobby of the hotel.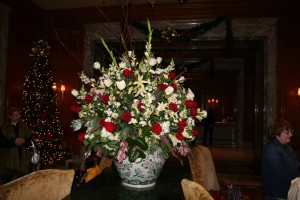 The hotel is located very close to many key locations including the Gateway (outdoor shopping mall), the theatre (about four blocks), downtown Salt Lake city, the State Capitol and other venues nearby. The ski resorts (Brighton, Snowbird, et al) are located about 30 to 45 minutes from the hotel and Gorgoza park is about 25 minutes from the Hotel. The airport drive is about 20 minutes (no traffic) from the hotel.
The personnel were very pleasant and went out of their way repeatedly to ensure we were having a great time. As we ingressed or egressed from the facility we frequently had the staff ask us if we needed directions to our destination. On one egress we asked for directions to the ski resort we were heading to and the concierge asked what we had planned for the evening and asked to get some tickets to see the Nutcracker at the nearby theatre. Since we hadn't planned on anything for that particular evening, we took her up on her offer and she secured some tickets for us while we went skiing.
Our hotel room was rather immaculate and kept that way despite the mess we made each evening after our excursions. Fresh bath robes, towels, and other toiletries were provided daily topped off with premium chocolates left on our pillows each evening after turn down service. The bathroom included a separate room for the commode that included an accessible phone and a separate shower and over sized tub along with two separate sinks inside and outside the main bathroom area. The bathroom was rather elegant with large mirrored double doors.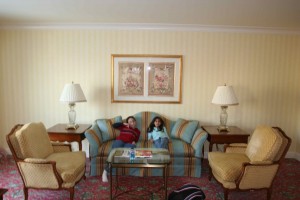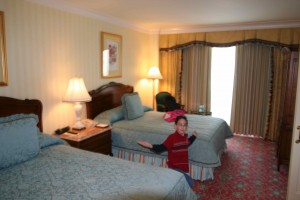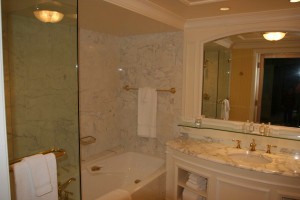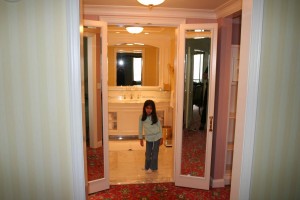 There were a couple of minor misses that did disappoint us but not enough to deter a return to the hotel. The first was the fact that the room did not have/offer flip/flops to travel to/from the pool & spa. We're not accustomed to having bath robes offered but not include foot wear which we thought odd. The spa did have flip/flops available at the spa desk so it may be that they prefer to have tighter control of the footwear for some odd reason. The real problem however is that the large bathrooms in the hotel have marble floors which become rather slippery without any footwear.
The second miss was the service at the restaurant. We scheduled a "breakfast with Santa" for the kids and there seemed to be some confusion as to which waiter was supposed to service our table. We had to ask for coffee three times before someone finally brought it. The real big miss hear is the first waitress we asked for the coffee said she would get it but informed us that "it wasn't her table" but would relay the message along. When you're paying $100 for a breakfast with Santa it should be EVERYONE's job to make sure the guests are getting what they need and shouldn't begin to waive ownership of requests.
Aside from those two minor inconveniences, we felt the hotel was excellent in service, amenity, and facility and we'd gladly return there on our next trip to Salt Lake City.
Cost: Rates vary depending on season but we paid, on average, about $300 per night. There is a $10 daily fee to use the spa facilities which we used every day. There is also a $20 valet parking fee but you may opt to park your own car. The spa massages range from $115 to $165 and women's facial/pedicure package cost around $200 depending on services selected.
Final Summary: Highly Recommended!