It was a day of snow boarding and fun for the Flanders & Simpson crew.    There were thrills and spills but for the most part, these peeps are quick learners!
So here's a collage of the days events.
There is a very important lesson learned today though.  Our lodge has been covered with about 6000 pounds of ice from heavy snow.  As the temperature has risen here, the ice has begun to melt.   Take a look at these two photos: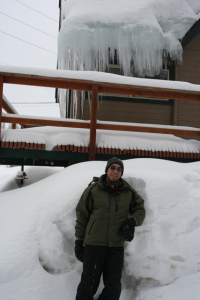 Now check out what happened two days after this photo was taken.
About two thousand pounds of ice came crashing down on that very spot someone was standing on just a couple of days ago.
The day was finished with some nice snowman building!